Highlights from the Southern California Visitor Industry Outlook Conference
On October 13, SMTT attended the 27th annual Southern California Visitor Industry Outlook Conference held in downtown Los Angeles. Attendees enjoyed a full day of panel discussions from tourism and economic experts – including one from SMTT Executive Vice President Richard Peterson – offering their best assessment of the southern California economic situation and how it may affect business.
Colliers PKF Consulting, an international firm of management consultants, industry specialists, and appraisers who provide a full range of services to the hospitality, real estate and tourism industries, also presented its extensive lodging forecast report. This report contains detailed analyses of markets throughout Southern California. See highlights below or purchase the full report for $300.
Domestic highlights:
U.S. domestic trips also continue to grow to record levels slightly slower rate of growth
Falling travel prices driven mainly by much lower fuel costs
Stronger business investment, uptick in business travel
Rising consumer confidence
International highlights:
International in-bound to U.S. expected to continue upward momentum; reaching new record volume level; slightly slower rate of growth
The Los Angeles Tourism & Convention Board forecasts overnight visitation to Los Angeles to reach over 6.7 million international visitors in 2015.
Efforts to attract international visitors include expanding the Visa Waiver Program, decreasing visa wait times, and increasing the number of countries with preclearance.
Increased visa validity for Chinese travelers from one year to ten years, resulted in a 50 percent increase in visa demand by Chinese citizens; the number of Chinese visitors is expected to reach over 5.0 million per year by 2020.
Slowed growth within China economy; moderated by continued ability to travel for the 5% with a passport
Industry highlights:
Spending by both International and Domestic expected to rise –at higher rate than volume –despite lower travel costs (mainly fuel) to reach new record levels.
How Santa Monica is getting China Ready
SMTT hosted a luncheon on October 8 in San Gabriel (pictured to left) for over 30 top tour operators and media serving the Chinese market. There, SMTT presented the advantages of basing oneself in Santa Monica during a Los Angeles stay. A candid business conversation was followed by a formal survey which revealed key takeaways regarding the business currently booked by local Chinese receptive operators:
Group rates are generally under $100
Luxury hotel is considered to be priced at $200+
Chinese language information/Social media presence/Media exposure would help influence booking
They would like FIT itinerary and packages
Additionally, on October 28, SMTT co-hosted a China Ready Seminar with Visit California and China Union Pay (pictured to the right).  Over 70 attendees learned about how they can prepare for Chinese visitors, understand the Chinese market and culture, and serve its travel needs.
To learn more about the China market, email Lauren Rogers, SMTT Director, Global Business Development, at lrogers@santamonica.com.
What to know about Santa Monica's summer 2015 visitor
SMTT, with the assistance of Lauren Schlau Consulting, conducts quarterly visitor intercepts to assess visitor behavior and spending throughout the destination. Here are six things we learned about this year's summer visitor:
Overall average daily group spending rose to $373 (up from $343 in 2014) and total daily spending of hotel guests rose to $887 (up from $721 in 2014).
Average overnight stay in Santa Monica is comparable to 2014 at 4.4 nights.
77% of those who arrived in the LA region arrived by commercial airline (up from 71% in 2014). With international visitation to Santa Monica slightly down to 55% (compared to 62% in 2014), the increase in airline arrivals to the LA region indicates an increase in more longer-haul U.S. visitation.
Of the visitors to Santa Monica, nearly everyone cites Santa Monica as a destination on their overall trip, while 19% name it their main destination.
Visiting for pleasure/leisure remains the top reason for visiting Santa Monica with 63% of visitors citing that as their purpose.
First-time visitors to Santa Monica are down 5%, however repeat visitors are up 5%.
Santa Monica Soul goes "Down Under"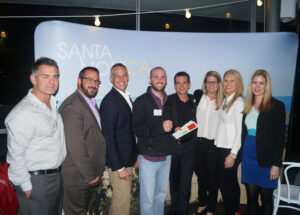 SMTT travelled to Australia and New Zealand September 20-26 for the 2015 Annual Trade and Media Mission. SMTT capitalized on record growth in travel to the U.S. from the New Zealand market (up 26% YOY), and the continued strength of Australia as Santa Monica's top international feeder market.
Annabelle Hender, Market Manager – in collaboration with PR Manager, Sophie Taylor were joined by:
Richard Peterson, Executive Vice President, SMTT
Joe Velasquez, General Manager, Shore Hotel
Dan Sparacino, Director of Sales & Marketing, Le Meridien Delfina Santa Monica
The delegation had a very targeted itinerary enabling key engagements of industry clients, agency trainings and SMTT themed events with key trade and media influencers.
The numbers say it all:
13 meetings with 31 key travel industry executives
8 training sessions with 90 Travel Consultants
2 signature Santa Monica media events with 44 of Australia and New Zealand's most influential media – generating 10 trade and consumer press articles
4 travel trade events with 135 key trade contacts and top producing travel agents
Santa Monica partnered with online wholesaler, Excite Holidays, to promote a SMTT campaign which incentivized travel agents to book Santa Monica hotels for their client's vacation packages. The incentive was launched in collaboration with a Santa Monica-style spa event. During the event the travel consultants where also were educated on the exciting destination updates to support their knowledge of selling Santa Monica.
And to promote our amazing destination ever further, hashtag #SantaMonicaSoul was trending throughout the week with influential trade and media posting their Santa Monica-inspired photos on their social accounts to win a variety of exciting prizes.
SMTT targets meeting professionals at IMEX America 2015
October 13-15, SMTT attended IMEX America 2015, the worldwide exhibition for incentive travel, meetings and events. Taking place in Las Vegas, IMEX America is the largest trade show in the U.S. for the incentive travel, meetings and events industry bringing in over 2,900 qualified corporate, incentive, association, and meeting travel buyers from over 50 countries.
SMTT exhibited in our booth with three of our hotel partners (Le Meridien Delfina, Shore Hotel and Shutters on the Beach), and completed over 106 client appointments over the three day period. SMTT's participation at IMEX America ties into our overall strategic sales plan to drive more corporate and incentive group business into our partner hotels and into the City of Santa Monica.
---
How to Work with SMTT
How can we help you get more tourism business? Santa Monica Travel & Tourism is your partner to increase your tourism business through a number of marketing, public relations and sales opportunities. For more information, please find contacts for each department below or visit Santa Monica Travel & Tourism's Business Opportunities page.
Sales & Services:
Lauren Rogers, Director, Global Business Development
lrogers@santamonica.com
310.319.6263
Lori Garman, Director of Sales & Client Services
lgarman@santamonica.com
310.319.6263
Public & Community Relations:
Jackie Alvarez, PR Coordinator
jalvarez@santamonica.com
310.319.6263
Marketing & Interactive:
Amy Mason, Marketing Manager
amason@santamonica.com
310.319.6263