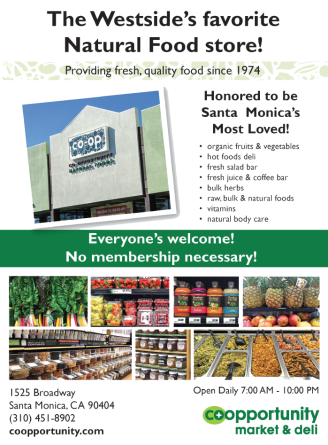 Co+opportunity market & deli
Neighborhood:
Mid-City
1525 Broadway, Santa Monica, CA 90404
Co-opportunity (also known as "The Co-op") has been providing natural, organic and local foods to the Santa Monica area since 1974. We're owned by our local community but anyone can shop at the Co-op! Our product standards make us a trusted source for the highest quality organic, local, non GMO and natural foods. We provide our customers with healthy options, and educate them to make the best choices possible.
Connect With Co+opportunity market & deli
American Express
Discover
Master Card
Visa
Cash
Family-Friendly
Hours Open - Monday: 7am-10pm
Hours Open - Tuesday: 7am-10pm
Hours Open - Wednesday: 7am-10pm
Hours Open - Thursday: 7am-10pm
Hours Open - Friday: 7am-10pm
Hours Open - Saturday: 7am-10pm
Hours Open - Sunday: 7am-10pm
Parking Available: Free
Favorite market in LA! All the produce is organic. Every item has been scrutinized and researched. The bulk and spice selection is incredible... I've pretty... Full Review