Santa Monica is quickly becoming the foodie mecca of Los Angeles, with culinary innovations that can hold the interest of even the most discriminating eaters with a regularly tilled restaurant crop. Learn about a few of Santa Monica's most compelling new dining options to check out in 2016.
Belcampo Meat Co.
Fans of flavor and sustainability will appreciate the efforts of Anya Fernald and Todd Robinson, whose Mount Shasta farm supplies Belcampo restaurants across California. Belcampo Meat Co. in Santa Monica is their most ambitious outpost, with skylights, decorative cowhides, and a full bar starring drink master Josh Goldman. Every part of Belcampo's animals factor into the fluid menu. For example, beef cuts include shell steak, short rib, and heart, with remaining tallow factoring into French fries and potato chips. An entire menu section fetes tartare of beef, lamb, or goat, depending on how funky you get. Belcampo also serves knockout brunch and houses a butcher shop.
Esters Wine Shop & Bar
Josh Loeb and wife Zoe Nathan have created a stir by partnering with talented people in an Art Deco building that dates to 1937. Bryant Ng and wife Kim Luu-Ng have Cassia, a red-hot Southeast Asian restaurant. Next-door, longtime Rustic Canyon sommelier Kathryn Weil Coker and husband Tug run versatile Esters Wine Shop & Bar. Rustic Canyon chef Jeremy Fox oversees a wine-friendly menu that may include smoked sablefish with pickled ramps, buttery kouign amann cheese twists, and knockout grilled cheese. Whether you sit at the U-shaped bar with cushioned stools or on the patio, Coker and her staff can suggest a spot-on pairing.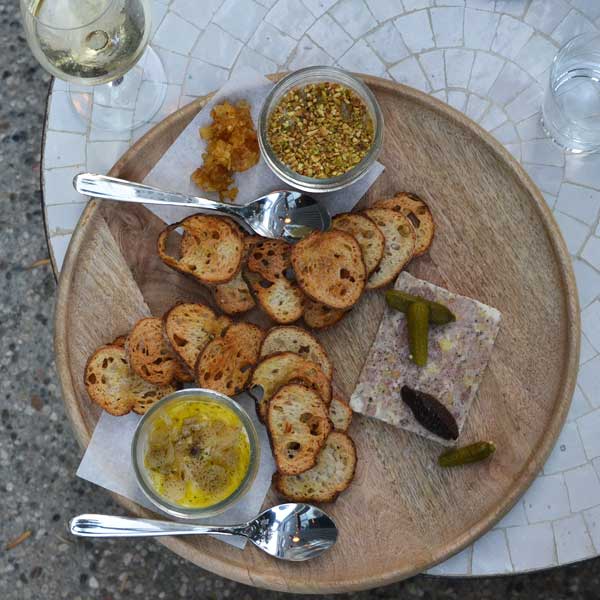 Still hungry? Santa Monica's culinary offerings don't stop there. Explore a full list of restaurant and dining options.
Mentioned in this Article