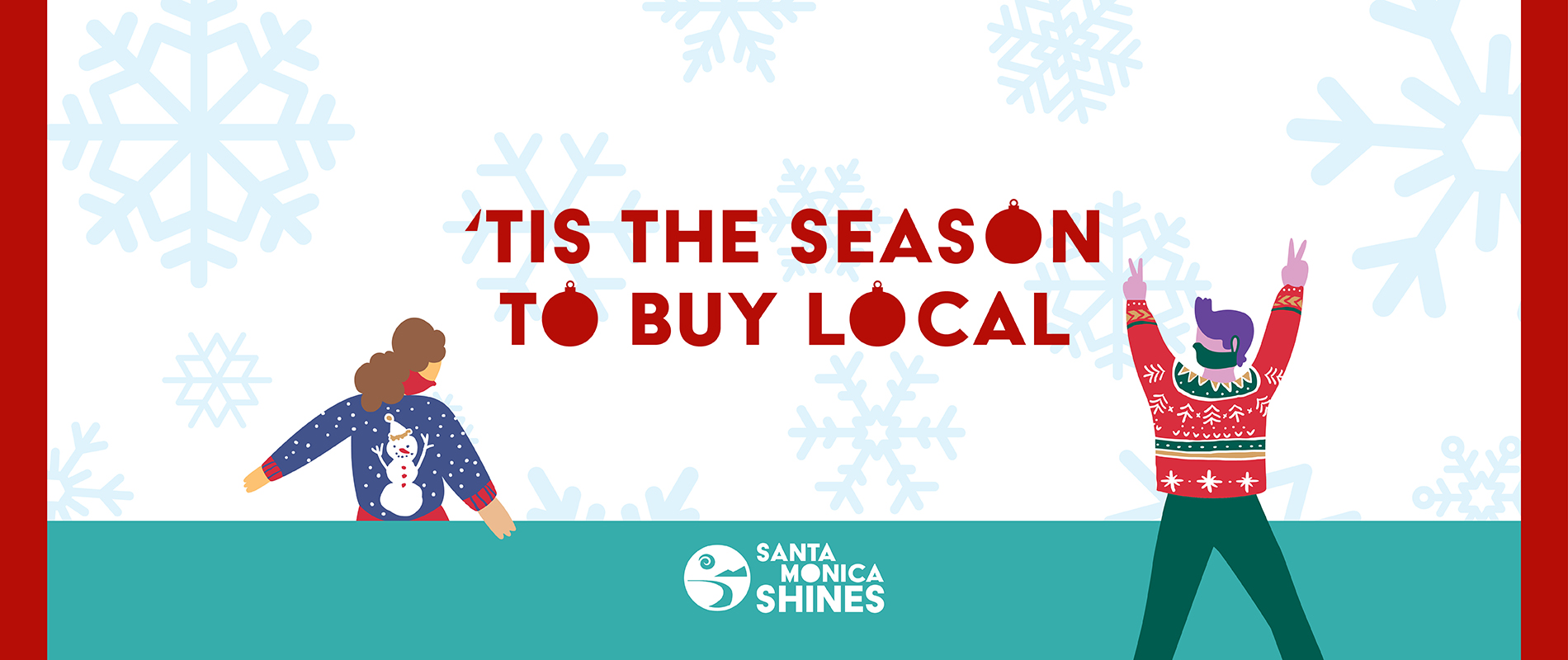 Santa Monica Holiday Dining, Events & Specials
Posted November 11, 2021
Please note that the Holiday Day specials listed below are for 2021. Please check back for 2022 Holiday specials.
The holidays are happening in Santa Monica! Restaurants, retailers, and businesses are offering an array of festive, physically-distanced attractions and charitable food and clothing drives to give back to the community this season. From free holiday art installations at the iconic Third Street Promenade and Santa Monica Pier, a ballerina snow-globe performance at Santa Monica Place and festive shopping along holiday-trimmed streets like Main Street, Montana Avenue & Pico Boulevard, Santa Monica continues to shine through the holidays while keeping the community safe and healthy.
Explore the Santa Monica holiday menus, holiday desserts, holiday cheer, seasonal specials and hotel deals being offered throughout the city. Find New Year's Eve Events and Specials here.
SANTA MONICA HOLIDAY MENUS
Santa Monica is a foodie's dream this holiday season. Check out these New Year's and Christmas menus in Santa Monica before you plan your upcoming holiday meal.
The FIG menu will be expanded to include seasonal dishes and holiday-inspired specials. The locals' favorite, FIG @ 5 Happy Hour, with half-price drinks and plates, is available. Please note: credit card is required for all bookings. For reservations, call 310-319-3111 or visit figsantamonica.com.
Celebrate Christmas Eve and Christmas Day with a sushi menu at Hotel Casa del Mar! View the menu and reserve your spot here.
For Christmas Dinner, enjoy Whole Roasted Dungeness Crab with curry aioli (Chef/Partner Jennifer Toomey's holiday tradition), Revier Braised Beef Short Ribs, Hot Honey Roasted Brussels Sprouts, and more. Christmas Morning includes Market Vegetable Quiche, Take & Bake Gingerbread Scones and Coffee Coffee Cake. Pre-order online through Tock, call 310-451-2311 from 8 a.m.-3 p.m. or e-mail catering@huckleberrycafe.com. Deadline is December 17 at 3 p.m. Pickup and delivery is Friday, December 24, 9 a.m.-3 p.m.
This Christmas Eve, enjoy three different heat & serve dinner packages for 4 people, like 3-Cheese & Kale Lasagna with Arugula & Radicchio Salad, House Baguette and Brown Butter Chocolate Chip Cookies; Braised Lamb Shanks with Creamy Polenta, Baby Kale Salad and Pumpkin-Spiced Poundcake; or Herb-Roasted Organic Chicken Breast with thyme jus, served with Carrot Parsnip Purée, Wood-Fired Garlicky Baby Broccoli and Vanilla Poundcake. Pre-order online through Tock or call 310-453-6776. Deadline is December 20 at 5 p.m., with pickups available on December 24 from 9 a.m.-Noon.
Socalo's festive Christmas Kit is now available for pre-order on Tock. Perfect for celebrating Christmas Eve or Christmas Day at home, each kit includes Short Ribs with Mole, Herb Roasted Root Vegetables, Sweet Corn Tamales with Crema, Cranberry Apple Salsita, Organic Red Rice, Winter Chopped Salad, and Chocolate Chip Cookies plus simple warming and serving instructions. Available for pick up in Santa Monica Thursday, December 23 & Friday, December 24. Place your order by Friday, December 17 at 3pm.
Celebrate Christmas Eve and Christmas Day at Hotel Casa del Mar! Chef Gemma is featuring a classic prix fixe menu with all your favorites like Slow Cooked Turkey, Roasted Scallops, Seared Grass Fed Rib Eye and more! Book your table and view the menu here.
Feast without the fuss! Celebrate the end of the year with your traditional favorites and some soon-to-be Holiday staples with Cali-Asian flair. Must-tries from our Winter Holiday menu includes 5 Spice Honey Glazed Ham, Beef Wellington, Classic Potato Gratin, Roasted Broccoli & Chestnuts, and Golden Raisin Bread Pudding. Preorder by 12/17 at 2pm.
Enjoy a Christmas dinner to go! This meal is for 2 people for $95 and includes 1lb Creekstone Farms short ribs, garlic mashed potatoes, braised brussels sprouts w/ double smoked bacon, mac & cheese, bread pudding, and more! View the menu and pre-order online or by calling 310-586-1111. Pick-up on 12/24 by 5pm.
SANTA MONICA HOLIDAY DESSERTS
Get a "World Famous" Rose Petal Pie for that holiday dinner or soiree! Available all-month long as 6" and 9" whole pies. Available for pickup by ordering online through Tock or calling 310-310-3616 after 2 p.m. with 48 hours' notice.
Holiday pies available for pre order and pickup. 8″ pies include a vegan Apple Crumble Pie, Peacan Pie, and Pumpkin Pie. Click here to order.
Christmas donuts are available all month long. Pre-order your Christmas Box for all your merry festivities with family, friends & co-workers. To order, email dksdonuts@gmail.com.
Pastry Chef/Partner Laurel Almerinda is baking up Egg Nog Bread Pudding, Strawberry Cranberry Trifle and boxes of Christmas Cookies. Plus, there are Holiday Cookie Decorating and Gingerbread House Kits available December 1 to 24. Baking kits require 24 hours' notice. Pre-order online through Tock, call 310-451-2311 from 8 a.m.-3 p.m. or e-mail catering@huckleberrycafe.com.
Give the gift of gluten with a canvas holiday bag, stuffed with brioche buns, a city load, baguette, olive fougasse, mixed berry jam, and cultured butter, for $50. Available 12/15 to 12/24. Preorder here.
Michelin-recognized Pastry Chef Erika Chan is baking up a variety of inventive, holiday cookies, like Beets & Berries Oreos, Fermented Gingerbread Cookies, Quince Manchego Shortbread, Fig Leaf Chocolate Chip Cookies and more for a special cause. Each $50 tin includes a dozen cookies with 100% of proceeds benefitting No Us Without You, one of the team's favorite, local non-profits. Pre-order online through Tock until end of December 10. Tins will be available for pickup December 15 to 17.
Spread some joy with our special Christmas Triple Berry, Chocolate Triple Berry, and Coconut Cakes, and our custom decorated Christmas Cookies. Or choose your favorite from our delicious cakes, pies, tarts, cheesecakes, and treats. Preorder by 12/22 at 2pm, last pickup available for 12/24 at 3:30pm. View the full holiday menu.
Chef Jen Bolbat and team are really leaning into the holidays with festive flavors like Peppermint Patty, Spiced Gingerbread, Brown Sugar Butter Pecan and more. Plus, we have lil' bags of Holiday Cookies & Candies that make for the perfect stocking stuffer, Secret Santa gift and more. There are $8 bags of housemade Iced Gingerbread Cookies, Chocolate-Covered Honeycomb (both of which are dairy-free) and Chocolate Chip Pecan Cookies and $5 TCHO Chocolate Bars. Also available Peppermint Ice Cream Pies featuring a chocolate wafer cookie crust is filled with layers of chocolate ice cream, handmade peppermint patties, fudge and peppermint sweet cream ice cream, then sprinkled with crushed peppermint candies. Peppermint Ice Cream Pies are available for $48 on a first-come, first-served basis through 12/24.
Holiday Sweets for your winter celebration. Deliciously festive treats! Holiday cookies and small bites include Cupcake Babies, Sugar cookies, chocolate caramel pretzel rods, gingerbread cookies and bite size bar bites. Available the whole month of December.
SANTA MONICA HOLIDAY CHEER
From spectacular holiday lighting displays to a photo with Santa Claus among the Christmas trees, Santa Monica is a surprising winter wonderland! Read on to discover the holiday events you can experience in this one-of-a-kind destination, perfect for the whole family (even the furry ones!)
Winterlit holiday art installations and festivities will light up Downtown Santa Monica all season long starting on November 19. Third Street Promenade will glow under tens of thousands of holiday lights illuminating festive outdoor retail, as well as eleven different holiday-inspired storefront art installations created by a variety of Los Angeles-based artists. The official City of Santa Monica 24-foot-tall tree and festive garland will deck the Promenade and a new holiday-inspired augmented reality experience will allow guests to transform physical structures, spaces, and trees along the Promenade into holiday elements and decor. Don't miss this year's Christmas tree lighting in Santa Monica. For more information, visit DowntownSM.com.
Santa Monica Place is creating magical holiday memories all season long with the iconic 50-foot tree adorned with thousands of sparkling lights and ornaments, a holiday DJ and the new 14-foot larger-than-life Ballerina in a Snow Globe. For information on additional holiday happenings and extended shopping hours, visit SantaMonicaPlace.com/Holiday.
December 4, 11, 18
Santa is heading to the Loews Santa Monica Beach Hotel. Gather the family for our holiday breakfast with Santa. Photos, delectable breakfast favorites, reindeer antler making, cookie decorating with elves, holiday hip hop dance instructors, and more are calling. Make reservations from 8:30 to 11:00am for December 4, 11, and 18. Reserve your spot now.
Thursdays, starting December 2
Listen to live jazz by the beach this holiday season at Loews Santa Monica Beach Hotel, every Thursday from 5 to 9pm beginning December 2nd in our lobby lounge. Sip and savor cocktails designed for two from our music menu. Reserve a table.
December 3, 4, 10, 11, 17, and 18
Listen to live jazz by the beach this holiday season, every Thursday night beginning December 2nd in our lobby lounge. Reserve a table.
December 3, 10, and 17
And to all a Good Night: an Ever After Take 2 Holiday adventure is an interactive musical where audience members help Cookie Claus set the Fairytale world back on track! You may not know it, but Santa Claus needs the magic of the Fairytales to help him make his rounds each Christmas–and this year, we need YOUR help to save the stories! Purchase tickets here.
December 13 to 19
We will be making small bouquets using a variety of roses. Including our local California rises. Children can wrap them in tissue and choose from a variety of ribbons. They can draw and write a special message to someone. Call(310) 802-9836 for more details.
December 18
Dust off those antlers and Santa hats, shine up those menorahs and get ready for the 13th annual SANTA Monica Pub Crawl! Santa Monica's cherished holiday fundraiser returns on Saturday, December 18 the city's best bars and restaurants to raise funds for the Westside Food Bank while and helping those in need for the holidays! Choose from 2 routes with 20 locations and enjoy DJs, bands, costume contests & more holiday fun. *Proof of vaccine or negative test required*
Various days from November 25 to December 25 at 6pm
Loews Santa Monica Beach Hotel announces its third annual holiday program, Seaside Holidays. Tis the season for FREE holiday movies…beachside. Seaside Cinema Holidays features timeless classics, seasonal culinary treats, and more. Find a movie here.
This holiday season at Loews Santa Monica Beach Hotel, enjoy tea-infused cocktails and a variety of sweet and savory bites along with a special performance from the young musicians of Elemental Music, a local education nonprofit, who will play selections from their winter concert repertoire, accompanied by casual fashions from Jane, a local clothing boutique. Performances include: December 4th: Elemental Strings Chamber Orchestra, December 11th: Small Ensembles from the Chamber Music Institute, December 18th: Elemental Guitar Ensemble.
Wednesday, December 22 from 5 to 10pm
Santa Clause will make a surprise visit between 5 to 7pm, bring the kids to take a photo and enjoy some holiday treats. Join the Holiday party from 7 to 10pm and enjoy our festive decorations and roaring fireplace. Bring an unwrapped toy to receive a complimentary cocktail, dessert, or appetizer on us. Dinner reservations begin at 6pm, live music begins at 8pm. Bring an unwrapped toy and have a cocktail, dessert, or appetizer on us. Benefiting the Santa Moncia Police Activities League (PAL) annual toy drive.
SEASONAL BUSINESS SPECIALS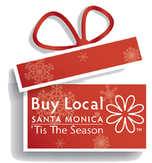 Check out these Southern California holiday deals at local businesses in Santa Monica. Donate to a good cause, treat yourself, or purchase a unique gift for your loved ones.
This year, the Miramar celebrates its 100th year Anniversary and we have partnered again with Santa MoniCARES to benefit the Westside food bank and Chrysalis nonprofits that provide support services to underserved members of the local community. Stop by to donate gently used clothes and canned goods in large holiday boxes under the tree. Alongside the donation boxes is a North Pole Mail Box for children to mail their letters to Santa and oversized gifts for a fabulous Instagram Photo Op for the family.
Just in time for the holidays, Sommelier Chloe Miranda has partnered with Table 22 for a monthly wine club. It features 2 or 4 bottles of old and new world wines (all planet-friendly), along with suggested music and food pairings, a recipe or tasty treat, plus more. Makes a great holiday gift or to keep you regularly supplied with awesome wines throughout the season!
SantaMonica.com website visitors receive 12% off coffee drinks. Valid through 1/3.
The wine shop & bar has more curated options for Holiday Gift Boxes than they've ever had before! There are gifts that cater to the savvy sipper or fancy collector, savory snacker or sweet tooth, accessory aficionado, or you can build-your-own-box. Plus, there are Holiday Wine Packs (bubbles, happy hour, classics) and lots of fabulous add-ons, like pretty cards, Champagne stoppers, artisanal candies, housemade nuts and more. Available in the shop or order online with select, national shipping too.
We have exciting holiday specials happening at exhale— call your location or walk-in today! Holiday Gift Baskets: Small Basket $149 and Large Basket $229. Gift Cards are 15% OFF and can be purchased online. Try our seasonal Candy Cane Foot Scrub for only $25 OR get it FREE with a purchase of any full priced massage or facial! *Sales valid thru 12/31.
$20 bonus gift card with every $100 gift card purchase. More information.
Beginning December 15th Metro will be discounting 1-day, 7-day, and 30-day passes by 50%! To take advantage of this offer, simply purchase and load any pass on your TAP card at any TAP vending machine, online, or at Metro Customer Centers.
Enjoy a $60 discount on monthly dance class fee or $5 discount on single dance class fee. Valid through 12/31.
Still Life Studio Holiday Sale showcasing over 30 local ceramic artists. Visit the studio, purchase gorgeous handmade work and get information on pottery classes. Sale on 12/10 from 5 to 8pm and 12/11 from 10am to 6pm.
Introductory offer of $59 for 50 minutes. Improve posture, reduce stress, increase flexibility and range of motion, reduce muscle and joint pain. Call (310) 260-2200.
Donate $10 to the Westside Food Bank, get 10% off your entire purchase at Texture for the month of November. It really is that simple. Shop sweaters, reversible wraps, and staples perfect for layering, and you will be set for all your outdoor gatherings this season.
Enjoy two virtual or outdoor Ballet Fitness Classes for the price of one. Join interactive Live Stream classes taught by pro dancers from across the country or join a class at Dorothy Green Park in Santa Monica. For the kids: Online Ballet for Toddlers Thursdays at 7am on Zoom, taught by a pro dancer. $5 per class.
Register for online cooking classes and let Gourmandise help with food prep from home. There are classes for beginners or professionals and focus on teaching classic techniques and use locally-sourced ingredients. Get 10% off your class when you sign up for the weekly newsletter which offers valuable resources such as recipes, class updates and more.
We're so excited to be able to participate in our first annual "Tacos for Toys" event! In partnership with @theeverestfoundation and @hildasolis. Beginning this week 12/1 at all participating Trejo' Tacos and Trejo's Donuts locations, bring in a new, unwrapped toy or book (valued at $10 or more) and receive a free taco in exchange for your donation. We will be accepting donations through Tuesday 12/14.
Wishbone Gift
A pop-up shopping experience where all of your gift buying dreams can come true. Located at 2443 Main Street and open throughout the week, check weekly hours here.
SANTA MONICA HOTEL DEALS
Don't miss out on fabulous hotel deals this holiday season when you book your trip to enjoy the festivities and holiday events in Santa Monica. Plenty of hotels are offering savings on room rates to help you get into the holiday spirit for less. Plus, if you're local or know someone who is, check out the Santa Monica Extra Bedroom program for unbeatable prices; available for Santa Monica residents looking for a staycation or accommodations for visiting guests!
3rd Night: Book 2 nights in a Suite or Bungalow and enjoy the 3rd night on the Fairmont. California Resident Offer: California residents enjoy 20% off, parking, $30 daily F&B credit, and a waived resort fee. Click here for more offers and to book.
Room with a View: Discover endless summer in Santa Monica and enjoy a room with a view and save up to 20% of. Stay More, Save More: Save up to 30% and receive a one time $100 hotel credit per stay. Offer is subject to availability at the time of reservation; blackout dates may apply. Valid through 12/31. Click here for additional offers and to book. Click here to check dates.
Long term business and leisure: Some of the suites feature a separate living room, gourmet kitchens and ocean views making it your home away from home for extended stays; special rates available for guests staying 14 or more days. Click here to book.
Beach Bed and Breakfast: Enjoy complimentary breakfast at Blue Steak restaurant or For Five Coffee Roasters, overnight valet parking, complimentary Wi-Fi, access to complimentary guest amenities and perks totaling $80+ daily value in savings! Valid through 1/31/22. Click here to book. Seaside Holidays Family Escape: Enjoy two-holiday cocktails, $50 resort credit, complimentary valet parking, DIY sand dollar sugar cookie kit, and more. Valid through 1/1/22. Find additional offers here.
Stay longer and live like a local: Save 12% to 20% when booking longer stays of 4+ nights. Click here to book.
Get 10% off when you book direct, use code WEBTENOFF when booking. Click here to book.
Gift of Proper: Stay three nights and receive the fourth night for free! Click here to book directly. Stay must take place before 12/31. Holiday Escape: Stay 2+ days and receive a $75 dining or valet credit. Valid through 2/9/22, check dates here. Find additional hotel offers here.
Book direct and save 10% off your entire stay, booking must be made 10 days in advance. Pets Stay Free: Book directly and we'll waive the pet fee for up to 2 dogs. Click here for additional offers and to book.
Stay More, Save More: Save up to 25% and a one time $100 hotel credit per stay. Offer is subject to availability; black out dates may apply. Valid through 12/31. Click here for more details and to book.
Stay More, Save More: Extend your stay for extra savings. Advance Purchase: Save up to 10% with advance bookings. Click here for additional offers and to book.
Save 30% on 3+ nights; Book direct and save 15%; Plan ahead and save 20% when booking 21-days in advance. Click here for a full list of offers and to book.
Are you a Santa Monica business with a holiday special or event that you would like included on this page? Submit here.